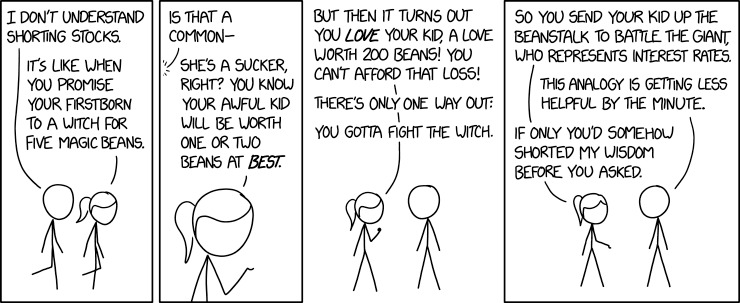 Title Text: "I'm selling all my analogies at auction tomorrow, and that witch over there will give you 20 beans if you promise on pain of death to win them for her." "What if SEVERAL people promised witches they'd win, creating some kind of a ... squeeze? Gosh, you could make a lot of–" "Don't be silly! That probably never happens."[/i]
I feel this is misleading as it fails to take into account the rapidly diminishing marginal value of magic beans.
For those who don't know, short selling is a mechanism where you're allowed to sell stocks immediately (before you buy them) and you have to buy them within some predetermined time-frame. If the stock goes down, you're well off, it it goes up, you're in trouble.