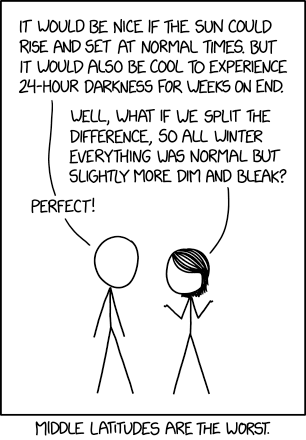 Alt-text: "Snowy blizzards are fun, but so are warm sunny beaches, so we split the difference by having lots of icy wet slush!"
https://xkcd.com/2081/
As someone who lives in Reykjavík, I'm not sure that he knows what high latitude winters are actually like. The short of it: yes, the times between the nominal sunrise and sunset are short, but that's the least meaningful portion. Much more meaningful is:
A) ...that the sun barely climbs over the horizon in the south, so almost anything blocks it; but
B) ...even when the sun is behind the horizon, including before and after "sunrise" / "sunset", it's so shallow that you have lots of "dim" - that is to say, lots of dawn and dusk.
There's much less of a loss of dawn and dusk vs. lower latitudes than there is loss of direct daylight. We get little to no "direct" sunlight around the winter solstice. Instead, our winter skies, when not clouded over (which is common), are usually a shade of salmon pink for much of the day.
By contrast, in the summer the sun rises in the north and sets in the north, after completing an arc around you. It takes such a shallow angle that when there's mountains to your north, you can experience multiple sunrises and sunsets per day. Sunrises and sunsets also take a very long time. Also, and it's kind of weird, but summer colours in high latitudes always feel more vivid to me than summer colours in low latitudes. I don't know why that would be; I think it might have to do with shallower sun angles creating more stark contrasts between light and shadow. But I don't really know.
The low sun angles and weather do encourage a lot of neat optical phenomena - noctilucent clouds, iridiscent clouds, complex rainbows and moonbows, sundogs, etc etc. Also, our cloud layers seem more thinly stratified - as if the lapse rate is more extreme here. I don't know if that's actually true or not. We certainly get tons of lenticular clouds in the summer due to our mountains. We also get plenty of graupel (think "tiny hail that accumulates like snow"), and in bad weather things like snow devils, and things that look like waterfalls made of snow in the mountains. Our winter storms are impressive. I've had a 6m shipping crate packed full of tonnes of steel, wood, glass, etc tossed around like a child's toy (wind gusts across the fjörd were measured at Cat 5 hurricane strength). What is rare here is lightning. So rare that it generally makes the news whenever it happens.