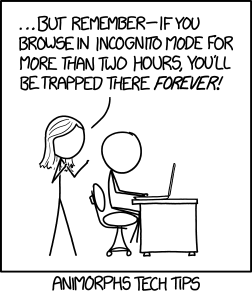 Title text: They're really the worst tech support team. And their solutions are always the same. "This OS X update broke something." "LET'S INFILTRATE APPLE BY MORPHING APPLES!"
Goodness, 15:11 GMT and no thread yet. Oh well.
If you don't quite get the reference, it turns out Animorphs gets pretty darn intense at times.
http://www.dorkly.com/post/80575/animor ... line-david
[ETA: Don't neglect to click through to the
original tumblr post
.]
It kind of makes me wish I had paid more attention to it as a young'un. But it's a long series, and I suspect trying to track down each volume would have gotten too frustrating after a while.