An
alleged
top-secret NSA presentation revealed secret backdoor access to a bunch of companies' servers.
Article here
.
Companies involved, in order of compliance:
Microsoft
Yahoo
Google
Facebook
PalTalk
YouTube
Skype
AOL
Apple
What they collect: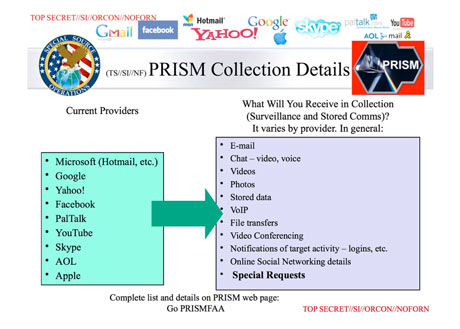 Of course, all of them deny the allegations.
How many people do they check? Well, they don't count the people who they check and don't merit further investigation, but:
When the NSA reviews a communication it believes merits further investigation, it issues what it calls a "report". According to the NSA, "over 2,000 PRISM-based reports" are now issued every month. There were 24,005 in 2012, a 27% increase on the previous year.

And here's what both upsets and confuses me. Their reasoning:
The program facilitates extensive, in-depth surveillance on live communications and stored information. The law allows for the targeting of any customers of participating firms who live outside the US, or those Americans whose communications include people outside the US.

It also opens the possibility of communications made entirely within the US being collected without warrants.

[...]

The presentation claims PRISM was introduced to overcome what the NSA regarded as shortcomings of Fisa warrants in tracking suspected foreign terrorists. It noted that the US has a "home-field advantage" due to housing much of the internet's architecture. But the presentation claimed "Fisa constraints restricted our home-field advantage" because Fisa required individual warrants and confirmations that both the sender and receiver of a communication were outside the US.

"Fisa was broken because it provided privacy protections to people who were not entitled to them," the presentation claimed. "It took a Fisa court order to collect on foreigners overseas who were communicating with other foreigners overseas simply because the government was collecting off a wire in the United States. There were too many email accounts to be practical to seek Fisas for all."

Okay, I think the whole terrorist thing has gone too far. Sure, they're a danger, but seriously? Obtain top-secret backdoor access in a net to capture
all
foreigners (and Americans with contact to foreigners), and
possibly
Americans themselves? With no record or requirements at
all
? In today's world, this is basically a door into anyone's life. This is basically wiretapping and all sorts of related intrusions... With no due process whatsoever.
And the reason? "Too many email accounts"? What the
fuck
?
I truly hope is proven false.