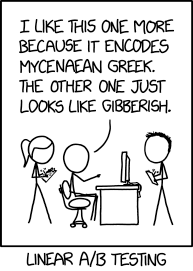 Title text: We wrote our site in Linear A rather than Aksara Kawi because browser testing showed that Crete script rendered faster than Java script.
I don't know if it's right to call Linear A "gibberish".
I read a good back about Linear B a while back. It's called "The Riddle of the Labyrinth: The Quest to Crack an Ancient Code".