2098: "Magnetic Pole"
Posted: Mon Jan 14, 2019 9:49 pm UTC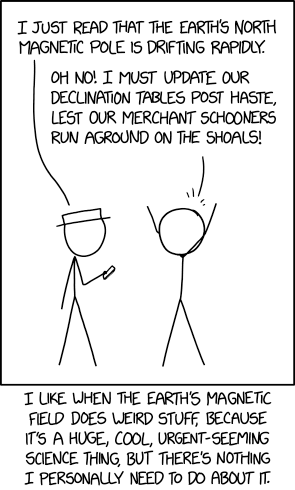 Alt Text: People keep trying to come up with reasons that we should worry about the magnetic field collapsing or reversing, but honestly I think it's fine. Whatever minor problems it causes will be made up for by the mid-latitude auroras.
I worry that this will dissipate the inner van Allen belt before we get a chance to dissipate it ourselves, using thin sheets of orbiting material to change the pitch angle of all those energetic protons, and deflect them into the upper atmosphere at lower mid-latitudes. What a light show! Auroras are wasted over oceans, and at higher latitudes where it is too cold to spend all night watching them.