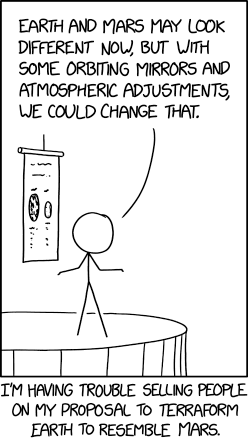 Title Text: "It has so many advantages--it preserves Martian life, requires fewer interplanetary launches, and makes it much easier to field-test Mars rovers."
It would also be necessary to move earth into Mars' orbit (obviously not exactly where Mars is, but probably as close as possible to the opposite side of the sun from Mars!) At least the rotational period wouldn't have to change much.
"Marsiforming" doesn't sound like it would be the right word to me, but Mars is the Latin name for the god, so I guess also for the planet?
Should it instead be something like "martaforming"?