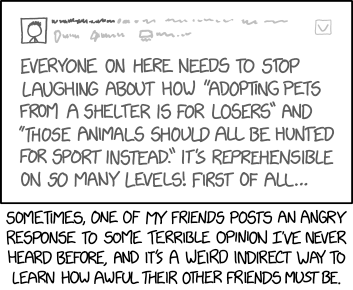 Title text:
I'm like a prisoner in Plato's Cave, seeing only the shade you throw on the wall.
...not knowing that the quoted phrases are from different conversations and are replies to "
Gangster Boss is recruiting homeless people to be his playthings—some are even given cat-ears and are told to act like our friend Catherine
"* and "
Those warlords may have tortured, raped and killed many people, but they still deserve a fair trial
" respectively. Now things get more complicated.
I'm usually very skeptical about (emotional) messages from people when I only see their side, especially if the message isn't directed at me. It does pique my interest, so I'm inclined to ask that person why they're still acquainted with that "awful other friend", but I won't consider that 3rd person anything until there's enough data to conclude that they really are awful.
Also, is it correct that in one possible interpretation of this comic Randall puts himself on a pedestal?
*alright I'm really pushing it with the first quote. But dammit if I can't make my point with "those animals" referring to people so evil that many would deem "those animals should all be hunted for sport instead" a reasonable response. Anyway I just wanted to tie in
that cgpgrey video
with the interpretation that it's people arguing over things that the other party never said/meant, which is really hard given that the "angry response" doesn't seem that unreasonable.