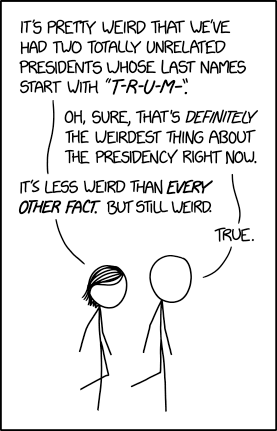 Title Text: "Excited to vote for future presidents Bill Eisenhamper, Amy Forb, Ethan Obample, and Abigail Washingtoast."
Not as weird as the two totally unrelated presidents whose last names were both Roosevelt, or at the opposite end of the spectrum, the two presidents named Grover Cleveland who were not just related, but actually the exact same person.
Donald Trump drinks twelve cans of diet Coke each day and has a call button on his desk to summon more Coke.
The two Presidents Roosevelt do raise* the question** as to how distantly related you can be to someone and still be considered unrelated. After all, at some level, every living thing has a common ancestor. Franklin Roosevelt is six generations separated from a common ancestor with Theodore Roosevelt. While they might be distantly related enough to be genetically indistinguishable from unrelated humans, the wealth of the family likely makes their political careers more correlated than actually unrelated people would be.
Further information here:
Everybody is your 16th cousin
The short answer is that in the time period, where immigrant communities tended to group together by nationality, and travel was less frequent, being 6th cousins isn't particularly remarkable, as essentially everyone would be expected to be, at minimum, 9th cousins with someone from the same general background.
* Well, they might, if they were alive
** Not beg