1984: "Misinterpretation"
Posted: Mon Apr 23, 2018 3:04 pm UTC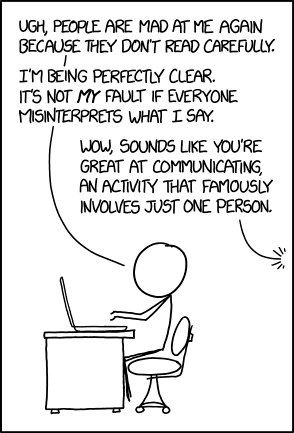 Alt-text: "But there are seven billion people in the world! I can't possibly stop to consider how ALL of them might interpret something!" "Ah, yes, there's no middle ground between 'taking personal responsibility for the thoughts and feelings of every single person on Earth' and 'covering your eyes and ears and yelling logically correct statements into the void.' That's a very insightful point and not at all inane."
Reminds me of
1028
. Or, more specifically, the alt-text of 1028: "Anyone who says that they're great at communicating but 'people are bad at listening' is confused about how communication works." 1028 ranks up there with some of my more favored XKCD comics, for sure.