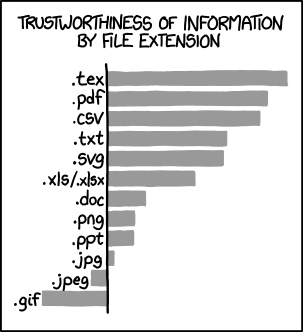 Mouseover caption:
I have never been lied to by data in a .txt file which has been hand-aligned.
Reminds me of
a blog post I once read
about judging people's résumés based on format.
I'm not getting the distinction between .jpeg and .jpg; honestly I've never seen a .jpeg file out in the wild. Though I always use .jpeg for JPEG images just to prove to anyone who gives a shit that I, unlike apparently every software developer on the planet, am aware that Windows has been able to accept filenames with more than three-character extensions since 1995 and every other OS in existence has been able to since their inception so why aren't we using all of them?
On a related note,

anyone know what's up with this banner?