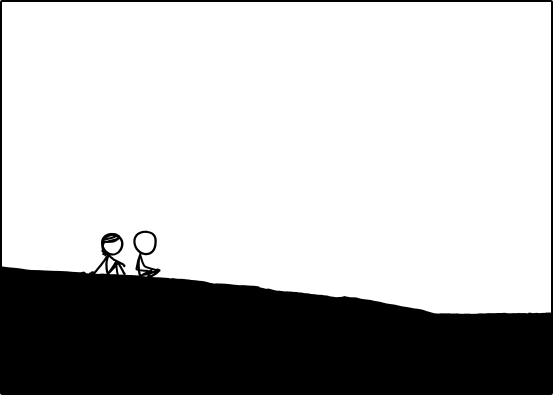 Title Text: Wait for it.
I have no patience for entropy.
[The eternal journey continues even after the end of Time, since it seems like the essential idea of this epic comic of comics is that while time might appear to be a strictly linear phenomenon, its manifestation as life is actually a profoundly open, richly holistic, poly-temporal inter-creative experience with as many entry points, narratives, and interpretations as there are participants in it. The ever-flowing moment of the present is in fact a portal to all times -- a mysterious window which invites us to simultaneously invent the world as we explore it. While we personally might have different beginnings, adventures, and inevitable endings, together our searching individual journeys map the living landscape of our boundless humanity and reality.
Also, castle silhouettes look crazy cool. (And I wonder what thermodynamics says about Time having a sequel...?)
Link
to the wonderfulous wiki for The One True Thread.]