Saliva Pool
How long would it take for a single person to fill up an entire swimming pool with their own saliva?
—Mary Griffin, 9th grade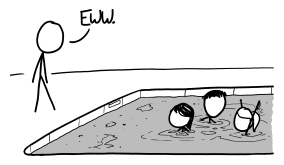 My most random thought about:
Footnote 3 wrote:I suppose you can make a pool that continues through to the other side of the Earth, but then you run into trouble when you try to follow the instructions in section

FR 2.14

about painting lane markings on the bottom.
...is: Does anybody have a Gungun Sub handy?