What-If 0057: Dropping a Mountain
What if a huge mountain—Denali, say—had the bottom inch of its base disappear? What would happen from the impact of the mountain falling 1 inch? What about 1 foot? What if the mountain's base were raised to the present height of the summit, and then the whole thing were allowed to drop to the earth?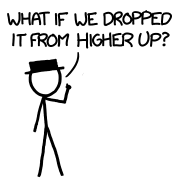 Finally, all the calls for MOAR POWER have been heard! Happy now?