Texas Hold'em Mafia (Newbie Game)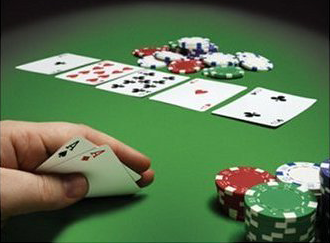 In life we are all dealt cards
Some have it easier and some have it hard
But it's all in how you play your hand
You can fold or you can raise and make a stand!
Rules:
Mod: LaserGuy
Speed: 7 days, nightless. Aim will be to have days end Tuesdays around 9-10 am PST and the new day begin around 1pm PST.
Bastardry: None. Semi-open setup.
Standard Rules:
Voting rules:
SPECIAL NEWBIE TIPS/ADVICE:
Game Specific Rules (IMPORTANT: Please Read):
In general, game days will last for 7 days, starting at ~1:00pm Pacific Time and ending at ~9:00 am Pacific Time. Extensions will only be granted in the event of a replacement if the mod deems it necessary.

You may post in thread during the day phase but not the night phase. It is night as soon as the mod posts a day-end post, or a hammer vote is cast, in which case it is automatically night, whether or not a mod has made a day-end post. Note that this means you may not post content after a hammer vote.

Do not lurk! One post per real-life day is the recommended minimum. Consideration will be given for weekends and holidays. If you are going to be away for an extended period, please let me know. Otherwise, you will be prodded after 48 hours of inactivity. Failure to respond to a prod within 48 hours will result in a replacement or modkill.

In the event of a tied vote, the result will be No Lynch. Players may choose to vote No Lynch instead of casting a normal vote. If there is a tied vote between a player and No Lynch, then it is a No Lynch.

Any night actions must be sent by PM before the end of the day. It is your responsibility to ensure that your night action is submitted on-time. If a hammer vote is placed, there will be grace period of 24 hours, or until the normal end of the phase, whichever is shorter, to change your actions.

You can send backup actions but don't make the conditions too complicated. You can change your night action at any time up until the end of day.

Players with chat privileges may chat at any time in their private thread so long as they are alive, including during pregame and during the brief night phases.

Mafia will be given safe claims.

I will announce MYLO and LYLO. These conditions will be announced solely based on the number of players remaining in the game and will not take into account any powers or potential interactions between them.

Mod posts in

bold

are game posts. Everything in bold you may take as 100% true to the best of my knowledge. Posts in

italics

are flavor posts. These are simply there to tell the story. It is possible that some flavor may loosely reflect the current state of play, but you should not attempt to read any game-related information into flavor posts.
Players
:
Zenii
Plytho
SuperJedi224
Mark_Cangila
Sabrar
Vicarin
mpolo
somitomi
moody7277
bessie
BoomFrog
wam