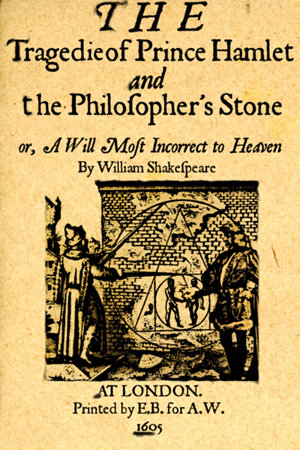 I just noticed that I seem to have never made a thread for this.
Hamlet and the Philosopher's Stone
is my completed Hamlet fan fic, available as an e-book. The play is a rewrite of Hamlet that preserves much of the original style, language, and plot, while injecting references to modern culture, epistemology, and ethics. It's perhaps what Shakespeare would have written, had he been simultaneously trying to appeal to audiences of both his time and our own. The Philosopher's Stone, for example, would be familiar to subjects of either Queen Elizabeth. The play's formatting is modeled after the way most of us encounter written Shakespeare: the spelling is updated and standardized, the stage directions are minimal and mostly of the sort that can be inferred from the dialogue, and the language is Elizabethan English from circa 1599; any anachronism is unintentional, aside from a certain wry punctuation mark and other allusions to future art. It's written to be performed as well as read. The only major change to the structure is the play's length: while unabridged productions of Hamlet can run up to five hours, the more concise
Tragedy of Prince Hamlet and the Philosopher's Stone, or, A Will Most Incorrect to Heaven by William Shakespeare
clocks in at well under two.
You can read the beginning
here
,
buy the e-book for $3.00 with Paypal
or
$4.00 on Amazon
, or if that's not feasible just PM me your email address.
If you like it, any help spreading the word would be
greatly
appreciated.