Do you ever eat something and think, oh man, these little brown things around the sides are the best part, I wish I just had a box of these? But then you kind of wonder, maybe they're only good in little bits, and if you had a lot of them, would they be gross after a while? Then you get all depressed because it's a question you'll probably never know the answer to.
The little white sticks in Fun-Dip. I always get pissed off at them, because if you eat Fun-Dip for a long enough period of time, eventually the white stick scratching the roof of your mouth causes it to get all sore, and then the powder gets all over it and it stings, but even then, the white sticks are delicious enough for me to forgive them. It's probably just crystallized sugar or something, but they are delicious. I would probably just buy a lot of Fun-Dip and eat the sticks and throw away the powder (or try to make ghetto Kool-Aid), except I'd feel guilty for wasting all of it.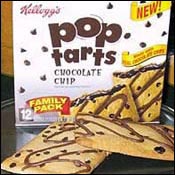 The little brown chocolate lines on Chocolate Chip Pop Tarts. They're all crunchy and artificial-chocolatey and delicious. I usually pick them off and eat them before I get to the Pop-Tart itself. I'm pretty sure these would be gross by themselves, though.
I don't need to go into any detail here (wow, this cereal picture is hella artistic).