Search found 4 matches
Search found 4 matches • Page 1 of 1
by itsa_wallaby

Fri Apr 20, 2012 4:18 am UTC
Topic: 1045: "Constraints"
Replies: 86
Views: 43556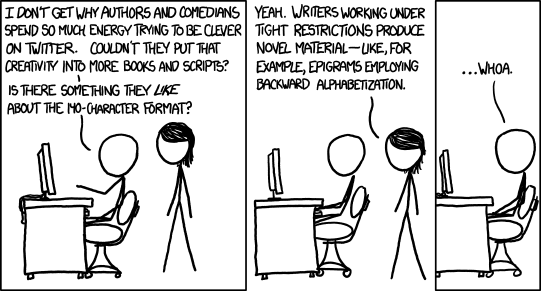 http://xkcd.com/1045/
Title-text: [title-text similiarly alphabetized]
(Edit: Sorry I keep screwing up guys!)
by itsa_wallaby

Fri Nov 26, 2010 1:25 pm UTC
Replies: 91
Views: 28616
The three-gendered bathrooms are full of win.

My friend would be a happy contributor to the building of deceiving children for amusement.
by itsa_wallaby

Fri Aug 13, 2010 8:20 pm UTC
Topic: 0779: "Anxiety"
Replies: 113
Views: 68342
One of these backscatter machines would have been infinitely preferable, as it would have been abundantly clear it was simply some metal on my pants and not a concealed weapon of any kind. Personally, I don't understand why people have a problem with them. As a trans person, these machines are terr...
---
Search found 4 matches • Page 1 of 1